Detailed 60-Page Socio-Economic Profiles for Indiana Counties from Census 2000's Summary File 3
Profiles summarizing the social and economic characteristics of Indiana's counties. These profiles are in PDF and require the Adobe Acrobat Reader to view. This is an excellent format for printing. If you are using Acrobat Reader 5 or above, you should be able to use the Text Column Select tool to extract data from these profiles in a format pastable into a spreadsheet.
Get a county-level profile by clicking on county on the map below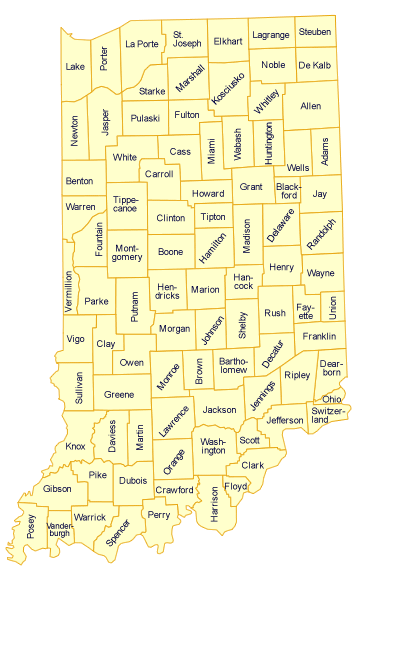 What's Inside Each Profile?
Primary - 11 pages providing a general overview of each area showing the most commonly requested data
Secondary - 4 pages covering frequently but less commonly requested information.
Housing - a general overview of each geographic area's housing showing the most commonly requested information about the general housing topics covered by the long-form.
Income - household income distributions by race and age of the householder, information about sources of income, earnings by age and sex, and related data.
Employment - the number of people working, looking for work, unemployment rate, the industries and occupations of people at work broken down by sex.
Education - educational attainment by age and race; school enrollment by age and race.
Poverty - poverty status by family structure, employment history, age, race and Hispanic/Latino origin, sex, and selected sources of income.
Household and Family - marital status, household structure and family types.
Language - language spoken at home, linguistic isolation, and place of birth and citizenship status.
Ancestry - detailed information about ancestry and the foreign-born population's places of birth.
Migration - residence in 1985, place of birth, year of entry into the United States, and citizenship status.
Transportation - means of travel to work, travel time to work, and time leaving home to go to work.
Related Links